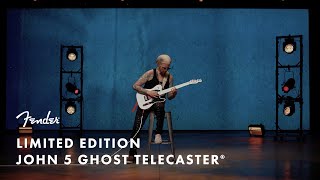 Exploring the Limited Edition John 5 Ghost Telecaster | Fender Artist Signature | Fender

Introducing the John 5 Ghost Telecaster. It features a top-bound alder body and 1-piece maple neck finished in an enchanting Arctic White gloss and accented by striking red appointments and a gleaming mirrored pickguard/control plate.

Learn more:

https://www.fender.com/en-US/electric-guitars/te...
Fender
🎉 2,300,000 人達成!
  📈 予測:300万人まであと82日(2023年8月23日) 
※本サイトに掲載されているチャンネル情報や動画情報はYouTube公式のAPIを使って取得・表示しています。