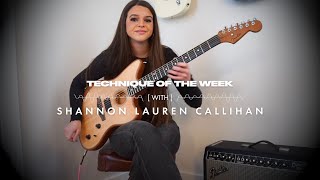 Dive into Harmonics with Shannon Lauren Callihan | Technique Of The Week | Fender

We teamed up with Fender artists to share their favorite riffs, techniques and tips. Shannon Lauren Callihan tunes to open F and shows you how to use a light touch to achieve those sweet chime-like tones – all on the new American Acoustasonic Jazzmaster.

Learn the skills you need to start prac...
Fender
【予測】200万人まであと1530日(2026年12月12日)
チャンネル登録
RSS
Fender is the world's foremost manufacturer of electric and acoustic guitars, basses, amplifiers, accessories, apparel and more; known worldwide for Stratocaster, Telecaster, Jazzmaster, Jaguar and Mustang models.