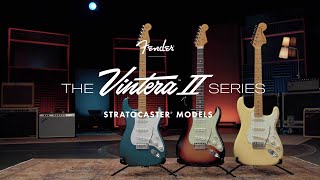 What is the effect heard beginning at ? A cranked-up chorus? That looks like a guitar that makes me wanna hit the Vintera highway 😁(00:02:20 - 00:05:25)
Exploring the Vintera II Stratocaster Models | Vintera II | Fender

Vintage style for the modern era. Introducing the Vintera II Series: era-correct classics and cult faves from the 50s, 60s & 70s. See Fender's Director of Product Allen Abbassi walk through the Vintera II Stratocaster models as Joshua Ray Gooch and Arianna Powell take them for a spin. Learn m...
Fender
🎉 2,900,000 人達成!
  📈 予測:300万人まであと60日(2024年1月29日) 
※本サイトに掲載されているチャンネル情報や動画情報はYouTube公式のAPIを使って取得・表示しています。