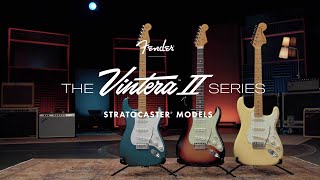 My favorite 70s , big headstock give you more resonance the problem was the materials of the construction but everybody have his own favorites.If you are fan of Ritchie Blackmore with the Maple can play his era 1970-1976 ( deep Purple and Rainbow ) later with the Rosewood the last era ( 1976- present) Rainbow 1976-1984 and with Deep Purple return Perfect Strangers album 1984 to 1993 and later 1995-present with Blackmore's Night ( he play some songs) .Hendrix tones with the Maple , Robin Trower, Yngwie Malmsteen and more players.(00:03:29 - 00:05:25)
Exploring the Vintera II Stratocaster Models | Vintera II | Fender

Vintage style for the modern era. Introducing the Vintera II Series: era-correct classics and cult faves from the 50s, 60s & 70s. See Fender's Director of Product Allen Abbassi walk through the Vintera II Stratocaster models as Joshua Ray Gooch and Arianna Powell take them for a spin. Learn m...
Fender
🎉 2,900,000 人達成!
  📈 予測:300万人まであと60日(2024年1月29日) 
※本サイトに掲載されているチャンネル情報や動画情報はYouTube公式のAPIを使って取得・表示しています。