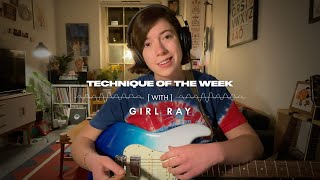 Girl Ray on Disco Chord Structure | Technique of the Week | Fender

We teamed up with Fender artists to share their favorite riffs, techniques and tips. Poppy Hankin of Girl Ray shows off a few different techniques for adding rhythm to a song when playing the classic disco chord structure.

#Fender #FenderTechniqueOfTheWeek #DiscoGuitar

SUBSCRIBE NOW:

http://bit...
Fender
【予測】200万人まであと357日(2023年9月25日)
チャンネル登録
RSS
Fender is the world's foremost manufacturer of electric and acoustic guitars, basses, amplifiers, accessories, apparel and more; known worldwide for Stratocaster, Telecaster, Jazzmaster, Jaguar and Mustang models.