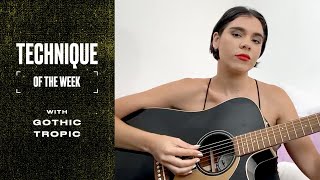 Cecilia Della Peruti (Gothic Tropic) Examines Finger Picking | Technique of the Week | Fender

We teamed up with Fender artists to share their favorite riffs, techniques and tips. Watch as Cecilia Della Peruti (Gothic Tropic) examines a fingerpicking exercise.

Looking for more practice? Check out this Fender Play lesson on using the PIMA fingerpicking technique:

https://bit.ly/32Ibbou #F

...
Fender
【予測】200万人まであと1530日(2026年12月12日)
チャンネル登録
RSS
Fender is the world's foremost manufacturer of electric and acoustic guitars, basses, amplifiers, accessories, apparel and more; known worldwide for Stratocaster, Telecaster, Jazzmaster, Jaguar and Mustang models.