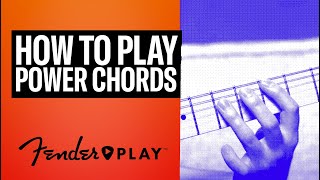 How To Play Power Chords on Guitar | Fender Play™ | Fender

Start your free trial of Fender Play today!:

http://fendr.co/eHZEm4

In this video, Fender Play instructor Akira Harrison teaches you how to play power chords on the guitar in less than 3 minutes. Power chords have been used in some of the most epic guitar riffs of all-time. In this Fender Play l...
Fender
【予測】200万人まであと1530日(2026年12月12日)
チャンネル登録
RSS
Fender is the world's foremost manufacturer of electric and acoustic guitars, basses, amplifiers, accessories, apparel and more; known worldwide for Stratocaster, Telecaster, Jazzmaster, Jaguar and Mustang models.