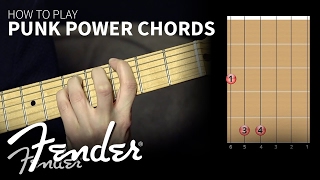 How To | Learn to Play Punk Power Chords | Fender

The mighty power chord is a very useful chord for Punk and easy to move around on the fretboard. This quick lesson teaches you how to play a power chord and the difference between a power and a barre chord. Start your FREE trial of Fender Play today!:

https://bit.ly/3gmosHm

Interested in the gea...
Fender
【予測】200万人まであと1530日(2026年12月12日)
チャンネル登録
RSS
Fender is the world's foremost manufacturer of electric and acoustic guitars, basses, amplifiers, accessories, apparel and more; known worldwide for Stratocaster, Telecaster, Jazzmaster, Jaguar and Mustang models.